The Carol J. Thomas FAICP
Scholarship Fund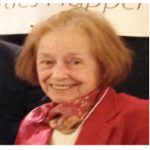 In memory of Carol J. Thomas, FAICP, the Massachusetts Chapter – APA has established a scholarship fund in her honor.
Initially, the fund will be used to mentor students and emerging planners by awarding scholarships to attend the Southern New England APA (SNEAPA) Conference. Carol Thomas taught planning courses at both the University of Rhode Island and the Harvard Graduate School of Design. She was an ardent mentor to so many students and emerging planners and strongly believed in the value of students and young planners attending and networking at conferences.
As the fund grows, scholarships may also be awarded to attend the APA National Planning Conference, to provide scholarships to students enrolled in a university planning program of study, or for other uses that would advance the planning profession that Carol so nobly represented. A committee of certain members of the APA-MA Board of Directors and a Thomas family member will oversee the fund.
Contributions may be made by donating online:
or mail a check to:
APA-MA Chapter, c/o Brian A. Currie AICP, APA-MA Chapter Manager
31 Strawberry Hill Road, Plymouth, MA 02360
Make the check payable to the APA-MA Chapter. Please note on the check that the contribution is for the Carol J. Thomas Scholarship Fund.
APA-MA is 501 C(3) not-for profit educational entity. Your donation may be tax deductible. Consult your tax advisor.