The American Planning Association is committed to providing opportunities for all to achieve excellence in planning by fostering equity, diversity, and inclusion in the organization and in the planning profession.
AICP scholarships help make the planning profession more diverse and accessible to those with financial need. Diversity is an inclusive concept which encompasses, but not is not limited to race, ethnicity, class, gender, age, sexuality, ability, educational attainment, spiritual beliefs, creed, culture, tribal affiliation, nationality, immigration status, political beliefs, and veteran status.
We are now taking applications for those interested in taking the November exam. The window for the May exam has passed.
Scholarship recipients pay reduced fees to AICP as follows: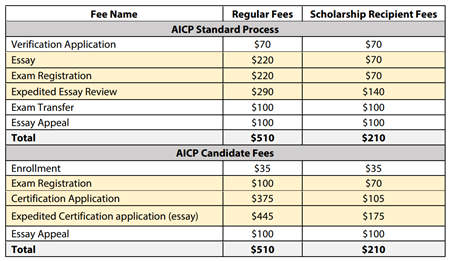 To take advantage of this program, qualified individuals should complete the short application form and include a brief explanation of how you self-identify with the underrepresented populations identified above.
Please note that the awarding of a scholarship does not guarantee that a recipient will be approved to take the AICP Exam. The exam application will be evaluated like any other. The nomination/selection of scholarship recipients is strictly confidential.
Completed applications, and any questions, should be sent to Amanda Chisholm, APA-MA Professional Development Officer, at pdo@apa-ma.org on or before May 28, 2021. Applications are reviewed and selections made exclusively by the APA-MA Chapter.