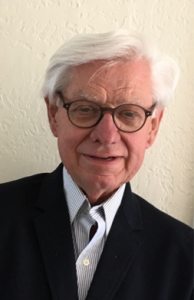 In APA-MA's Spotlight Series, we chat with planners across the Commonwealth about their communities, their newest projects, and their career paths.
The next installment in this series is with Allan A. Hodges, FAICP, who completed a 50-year career in urban planning and environmental impact analysis in 2014 when he retired. The last 34 years were with Parsons Brinckerhoff's Boston office as Director of Planning. With that global engineering and planning firm (now WSP) he planned infrastructure projects throughout the U.S., including the Big Dig in Boston for which he was Environmental Documentation Manager.
If you know of someone who would be a candidate for the Spotlight Series don't hesitate to contact us at communications@apa-ma.org. We would love to hear from you!
What made you decide to pursue a career in planning? Were there other career paths in your possible future or was it always planning?
I backed into planning.  Originally, I wanted to be an architect.  But in my second year at Ohio State University, I switched to the Community Analysis program in its College of Commerce.  I also learned Spanish at OSU and at Mexico City College.  Later, I transferred to Southern Illinois University and took courses in its Community Development and Latin American Institutes.  I was pursuing a potential career assisting U.S. businesses to expand successfully in Latin America.  That didn't work out.  So, I became a "City Planner 1" for the City of Columbus, OH, and there my interest in city planning peaked.  Eventually I received a Master in Urban Planning at Michigan State University.
You were Director of Planning at Parsons Brinckerhoff. Did you always work in the private sector or did you spend any time in the public sector? What made you decide to go into the private sector? What did you like/dislike about each?
I worked in both sectors.  My first job after graduate school was with the Boston Redevelopment Authority.  Later, I was offered the opportunity to work in a real estate economic consulting firm in Washington, DC.  I learned new skills; market analysis, development programming and financial feasibility analysis, and making a profit (critical for the private sector).  I returned to the public sector at the Northern Virginia Planning District Commission and at U.S. HUD in Washington, DC.  Later, I joined the Association world in DC: the Mortgage Bankers Association of America (MBAA) and AIP/APA.  I preferred the private sector because of the professional analytical vigor, the variety of assignments and the opportunity to travel.  While I enjoyed the stability of working in a single community in the public sector, I often found the slow decision-making process, overzealous regulators and petty politics frustrating. 
What important skills did you learn in graduate school that you used on the job?
The comprehensive planning analytical process and ecological bases for planning courses provided useful skills.  The first process was adaptable to many types of urban and transportation planning problem-solving assignments.   The second helped me understand and effectively work with complex Federal environmental laws and regulations pertaining to large transportation infrastructure projects. 
What were 2-3 major planning highlights of your career and why?
At the MBAA, I was able to convince this conservative trade association to support Senator Udall's Federal Land Use Planning Bill in the 1970s.  At PB, I was Environmental Document Manager for the Central Artery/Tunnel Project in Boston (the "Big Dig") between 1986-1996.  We achieved a 100% approval record for all the environmental impact documents we prepared and submitted, and we withstood every legal challenge.
Do you have any professional disappointments? If so, what is one that sticks with you and why?
Not being selected by a good client is always a major disappointment for a private consultant because of the intense effort that is required in a competitive marketing environment.   Looking back, I never had the opportunity to work for a progressive real estate development firm that was committed to community building.  I think that would have been fun.  I liked to see things built that I worked on.
Now that you are retired, are you still involved in the planning field? If so, in what ways?
Yes, as a "citizen planner".  I review and comment on development and planning projects that affect my neighborhood.  Such projects include proposed buildings that violate the zoning code, and the master planning efforts for Downtown Boston and the Boston Common.  I am a member of the Boston Common Committee of the Friends of the Public Garden and of the Leadership Team of the Downtown Boston Residents Association.
Normally people ask whether someone has any advice for people just getting into the field. I will change it up a little and ask whether you have any advice for planners early to mid-career?
Don't get complacent.  Learn new skills to propel you out of your comfort zone.  Take courses such as real estate economics, law, engineering and a foreign language.  Above all; travel, travel, travel!!  There is much to see and learn from elsewhere.
Place is always an important factor in the planning field. What are a few of your favorite inspiring places?
Paris!  The monumental historic city plan, the startling new architecture and the City's colorful street life combine to make a very inspiring and lively place.   Zurich!  Its beautiful lakefront parks and excellent public transit system have made a lovely and vibrant pedestrian environment.  And Boston!  The Commonwealth Mall, the Public Garden, the Esplanade and now the new Greenway are transformative public parks that make Boston a special place.
What is best part about being retired?
The best part is having the time and freedom to do what I want when I want to.