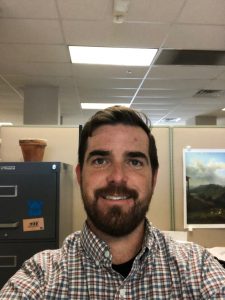 Ted Harvey, Senior Planner/Manager
Pioneer Valley Planning Commission (PVPC), Springfield, MA
Ted, tell us about your background:
I have a BA in Archaeology and Religion and a MA in Medieval History.  History has always been of interest to me and I originally wanted to go into academia.  However, I went to UMass Amherst for a Master's in Public Administration.  I kept my new interests alive by volunteering on the Community Development Committee in Amherst and the Board of Directors for the Valley Community Development Corporation. At the PVPC, I work primarily on Community Development Block Grant projects. I live in Easthampton with my wife, three kids, and a puppy.
Although you don't have a planning education background, what drew you to the planning profession?
I came by it accidently, and my enjoyment of planning has grown over time. During my graduate studies at the UMass Amherst School of Public Policy, I took a course on housing and community development and realized this was the path I really wanted to be on. I was not sure what planning was at the time. My internship at the Franklin Regional Council of Governments (FRCOG) was my first real introduction to the planning world. I enjoyed the combination of idealism and practicality that was necessary to get things done. I also found many similarities between what I learned in the public administration program and planning.
Why did you choose to work in a regional planning agency?
It, also, was somewhat of an accident.  My internship at the FRCOG in Greenfield evolved into a full-time position. I liked the fact that a planning agency allows you to do many different things. I also enjoy working in an office that has multiple departments with people doing different thing with whom you can exchange ideas.
What important skills did you learn in your education in political science that you use in the planning job you have now? Or, did you have to learn new skills on the job (especially in a a planning agency as diverse as the PVPC agenda)?
The biggest thing I learned from graduate school, and I think this is similar from planning programs, is how to work with people (especially residents.) This is obviously a huge part of our job as planners and continues to be an ongoing learning process. There were plenty of things I had to learn on the job that I did not know or knew at a cursory level.  I think this is true of anyone coming out of graduate school. There is this idea after leaving school that you know everything you need to know about the field, but really it is just the beginning of your learning.
What was your biggest disappointment on the job and why? What would make it a better experience for you professionally?
Something that has been frustrating (and something I know planners run into all the time) is the slow pace at which things get done.  I remember working on developing a regional animal shelter in Franklin County and finding plans from 25 years earlier that were never able to get off the ground!  On the flip side, this slow pace makes it more rewarding when you are able to get something tangible done.
What is your major accomplishment that you are most proud?
Actually, getting a regional animal shelter established in Franklin County was a pretty big accomplishment. I also have been proud of the continued funding I have been able to help get in Community Development Block Grants for the small communities in the Pioneer Valley. Without these funds, there would be no way projects like housing rehabilitation for low-income families, neighborhood infrastructure projects, and social services like domestic violence prevention would move forward. These are small communities with small budgets, and the needs can be very great.
In your opinion how has the MGM Grand Casino in Springfield helped the City and region?

So far, I think it has been generally positive. As a piece of Springfield's economic revitalization, it has been great. We will see what happens down the road.
Has the improvement to AMTRAK passenger rail service really helped the Pioneer Valley planning area? If so, how?
I think so. On a practical level it provides a much-needed service in the area. Ridership continues to go up, which is great. On a larger macro level, its successes and just the fact that improved rail service is now available, shows people that there are other very viable transportation options than driving. From a planning perspective, this is very important.
The MA chapter of APA has about 1,000 members, most located in the heavily populated east half of the State. What message do you have for them from a western planning agency's perspective?
It is great to be a part of an active organization like the MA chapter of APA, no matter what part of the Commonwealth you live in.  Membership gives you the opportunity to engage with other planners and learn what they are doing, the problems they are facing, and the solutions they are deriving. I think it is easy to get stuck in a myopic view of planning (or any field). There are also numerous things that are being done in the planning field in western MA that I think need to be highlighted such as rail transportation, regional bike share program, and the cleanup of the Connecticut River.