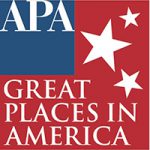 2019 Great Places in America
APA has announced the 2019 Great Places in America winners and the Neponset River Greenway has been honored as a Great Public Space!
This year's Great Streets, Neighborhoods, and Public Spaces make their communities more equitable, accessible, welcoming, and environmentally and economically sustainable for residents and visitors alike. Great Public Spaces provide a social gathering space and foster a sense of community. They bring energy and vitality to their surrounding neighborhoods or nearby downtown with green space, public art, and community events.
Congratulations to the great communities of Boston and Milton and to all those involved in making this award a reality!