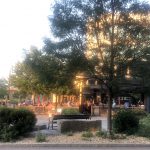 Before summer ends, catch up with your planning colleagues at the River Bar!  Sip something cool, reunite with a colleague or chat up a new face, and enjoy views of the Mystic River.
Where: River Bar, 661 Assembly Row, Somerville MA 02145
When: 5:00PM-8:00PM, Thursday, August 22nd
How:  Drive in or take the T to "Assembly" Station
More info: http://river-bar.com/
RSVP: events@apa-ma.org
See you there!